Devon film-set beach due to be auctioned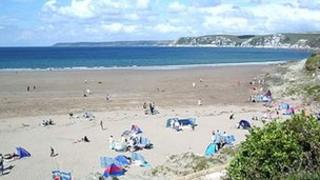 A Devon beach that has provided the back drop for movies and TV programmes has been put up for sale.
Bigbury beach in south Devon is one of the region's largest sandy beaches, said the agents selling it.
Burgh Island, which inspired some of Agatha Christie's murder mysteries, is 250m (820 ft) from the beach.
Bigbury beach, which has been featured in television shows such as Lovejoy and Inch Loss Island, will be sold by auction with a guide price £35,000.
The beach also featured in the 1965 film, Catch Us If You Can, starring the British band The Dave Clark Five.
Nick Wheeldown, director of Waycotts Chartered Surveyors of Torquay, said: "I have sold many different properties over many years but this is something special.
"Personally, I have enjoyed good times on this very beach with my family."
Agatha Christie is said to have written "And Then There Were None" and "Evil Under The Sun" while staying on nearby Burgh Island. The author had a long association with Devon.
The auction for the beach takes place on 9 May at the St Mellion International Resort in Cornwall.