Newton Abbot pupils given iPods to make film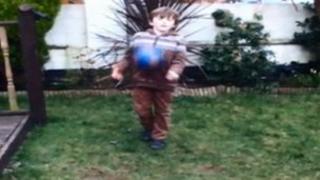 Give an eight to ten-year-old an iPod and you might imagine they would use it to download music, play games, or message their friends.
But a group of pupils from Haytor View Primary School in Devon have just made a film about their local area shot entirely on the smart devices.
'Our Buckland, Our Film' tells the story of the nearby Buckland Estate in Newton Abbot through the eyes of the people who live and work there.
Year four and five pupils Hayden Hadley, Maddie Manning and Travis Harry told BBC Radio Devon: "We've been talking to older people about what they did in Buckland when they were young.
"They played hide and seek and hopscotch, they didn't have electronics or anything."
The children also said they filmed what they get up to on the estate where they live, including playing football and going to the local shops.
The film was funded using a £10,000 grant from the Heritage Lottery Fund as well as money from Devon County Council and Sure Start.
Emily Farrell, from Newton Abbot Community Interest Company, which is running the project, said: "The Buckland Estate is the most deprived area in Newton Abbot.
"This is about giving these kids a break and an opportunity they wouldn't otherwise have."
Producers and creators
Mrs Farrell said the film was planned to be the first in a series about the estate.
She said: "'Our Buckland' is bigger than just one film.
"It's about finding ways to work with the community and improve it, to find out what people want and build links with the school."
Scott Hampton, deputy head teacher at Haytor View Primary School, said: "Filming elements of life as part of the Buckland community that is close to them, using tools that are current and relevant to their lives, has seen them begin the journey from consumers of technology to producers and creators using technology."
The film recently had its premiere at the Alexandra Cinema in Newton Abbot.
The children said they were "excited and shy" about walking up the red carpet.
Asked, if they made another film, what it would be about, they replied: "It could be about places near Buckland, like Exeter."