Kingswear Castle paddle steamer returns to Dartmouth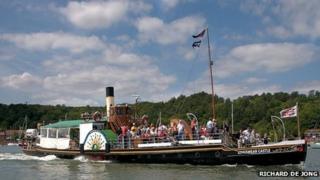 A paddle steamer has returned to the town where it was built for the first time in almost 50 years.
The Kingswear Castle was used by people travelling between Dartmouth, Kingswear and Totnes in Devon from the 1920s until the 1960s.
It was then used on the Isle of Wight and in Kent.
A local company has signed a 15-year contract with the owner, PSPS (Paddle Steamer Preservation Society) for it be returned to Dartmouth.
The society purchased the Kingwear Castle in 1967 for £600.
It then left Devon and operated from Cowes on the Isle of Wight and then Chatham in Kent.
The steamer will be used for river cruises from Dartmouth from Easter weekend.