Second Appledore Instow community ferry introduced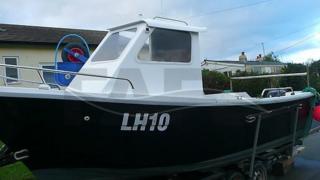 A community group which reintroduced a ferry service in north Devon two years ago has taken on a second boat.
A ferry between Appledore and Instow carried passengers for more than 100 years, but the commercial operation ceased in 2007.
However in 2011 a non-profit service was set up with a rented boat. Misty Blue, which carried 8,400 passengers.
The number almost doubled last year, so now a second boat, the Lizzie M, has been bought with lottery funding.
Last season the Misty Blue ferry carried 15,239 passengers, 441 dogs and 201 bikes.
Money from the Big Lottery Fund was also used to buy two new tenders which will take passengers from the quayside or slipway to the ferry for the trip across the River Torridge.
"There's nearly always been one, so the ferry's part of the heritage of the river and the two villages," volunteer John Nightingale told BBC News.
"Secondly, it's a really good community facility for locals and visitors alike."
Weather and tide permitting, the service will run from 1 April until 31 October.
The new boat will officially come into service next week alongside the existing ferry Misty Blue, operating two hours either side of high tide, from 08:00 until 21:00 between the ferry slip on Appledore Quay and the Quay Steps at Instow.