HMS Scott returns to Plymouth after Red Sea deployment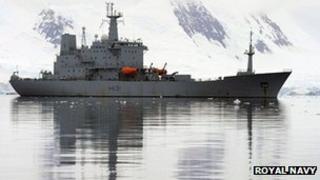 Devonport-based Royal Navy survey vessel HMS Scott has returned to Plymouth after three months in the Red Sea and the Gulf of Aden.
The crew have been supporting coalition maritime security operations.
The vessel, the fifth largest ship in the Royal Navy, has also surveyed more than 7,000 square miles (18,000 sq km) of the sea floor.
The ship will be in Plymouth for routine maintenance on its computer systems and machinery.
The vessel, named after the Antarctic explorer Captain Scott, has a crew of 78 and was commissioned in June 1998.
The first HMS Scott was a World War I destroyer, built by Cammell Laird and launched on 18 October 1917.
Following maintenance work, HMS Scott will be deploying to the North Atlantic.