Torquay sewer-collapse threat forces raw waste into sea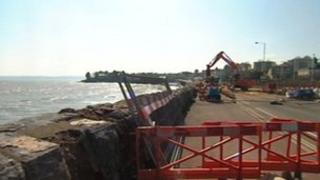 Raw sewage is having to be pumped into the sea at a Devon holiday resort in a bid to stop a main sewer collapsing.
A breach in the sea wall at Livermead in Torquay caused part of the road to collapse, undermining the sewer.
South West Water (SWW) has had to divert flows away from the sewer as a result, forcing it to pump the raw waste into the sea at Hope's Nose.
Campaign group Surfers Against Sewage (SAS) said pumping raw sewage into the sea was "a return to the bad old days".
"It's not great - we're concerned about the impact on water quality and the potential for recreational water users to become ill," SAS spokesman Dom Ferris said.
"It's a return to the bad old days... and we're hoping South West Water and the local council work hard and fast to fix the problem."
People have been been warned not to swim at Beacon Cove, Torre Abbey and Hollacombe and warning signs have been put up.
SWW said there was also an increased risk of pollution at Shoalstone, Broadsands, Goodrington, Paignton Sands, Preston Sands, Meadfoot, Anstey's, Babbacombe, Oddicombe, Watcombe and Maidencombe.
It has been diverting 21,000 cubic metres of sewage a day away from the affected area since the road collapsed on Monday by using tankers and the emergency overflow at Hope's Nose.
SWW said the sewer could not be used again until Torbay Road had been stabilised and the breach in the sea wall repaired.
It said the company was working closely with Torbay Council and the Environment Agency "to complete repairs as soon as possible".
A section of Torbay Road has been closed to allow repair work to be carried out.
'Back in control'
Torbay Council said it was "anticipated the affected section of Torbay Road will have to remain closed for most of next week".
Neighbouring Livermead beach had also been closed for safety reasons, the council added.
Torbay Liberal Democrat MP Adrian Sanders has written to Torbay Council asking why the repairs to the sea wall planned for February were delayed and why the public had not been told about the sewage at Hope's Nose.
But Torbay Mayor Gordon Oliver insisted everything possible had been done.
"We got stuck in to containing the breach and we've had people here day and night battling with the elements to do that... and we're back in control of the situation," he told BBC News.