Wheel of Plymouth extension approved by planners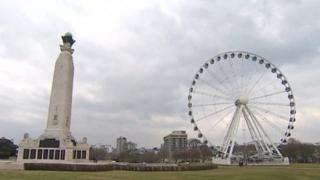 A "temporary" tourist attraction which has been on the Hoe in Plymouth since 2011 has been granted an extension until 2014.
Plymouth City Council planners approved the extension application for the 174ft (53m) Wheel of Plymouth.
A condition of the extension is that the wheel ceases operation by the end of February and the site is restored to its former condition within a week.
It should also not affect Remembrance Day commemorations on the Hoe.
'Decent attraction'
The big wheel, which has had two previous extensions, was taken over by Dubai-based Freij Entertainment last year, which also operates wheels in other UK cities, including York, Manchester and Liverpool.
Some concerns had been raised that if another extension was agreed, the wheel could become a permanent fixture.
But local pub landlord Nigel Ledger said the wheel was a popular attraction and should be allowed to stay.
"It's time we had a decent attraction on the Hoe - we've suffered two bad summers with the weather... so I'm pleased to see it there," he said.