Axminster Carpets: Consortium saves Devon firm and 100 jobs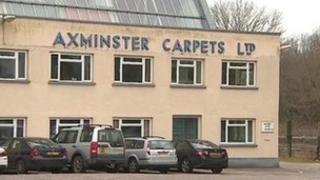 Axminster Carpets will begin trading again on Monday after a deal was made to save the company and secure about 100 jobs.
A consortium, led by private investor Stephen Boyd, acquired the business "as a going concern" from the administrators Duff and Phelps.
The firm went into administration on February with the loss of 300 jobs.
A statement said the deal would safeguard the future of a "well respected heritage brand."
'Overwhelming support'
Axminster Mayor Andrew Moulding told BBC News he was "absolutely delighted".
"It's very encouraging and hopefully as business grows, the new company might be able to re-employ some of the unlucky people who've lost their jobs," he said.
Axminster Carpets was previously one of Devon's biggest private employers.
After it went into administration, carpet-making operations in Axminster were scaled down and yarn production at Buckfast stopped.
The new company, known as Axminster Carpets (2013) Limited, will focus on its retail network and the domestic consumer side of the business.
Carpets will continue to be designed, developed and produced in east Devon.
Managing director Josh Dutfield said he had been overwhelmed with support of people who wanted the firm saved.
In a statement, Mr Dutfield said: "As a local man, born and bred, I have fought for the survival of this business over the last few months and indeed the last few weeks have been the most challenging of my life.
"I have been determined to do everything possible to secure the continuation of the business for the Axminster community and I feel a sense of pride in securing our future."
Mr Dutfield said there was a "strong and talented team" with the skills needed to take the "fantastic brand and company" into the future.
"We march forward with pride and with a passion to succeed," he said.
Royal patronage
The consortium deal was also backed by Centric Commercial Finance.
The origins of the luxury carpet maker can be traced back to Thomas Whitty, who began making carpets and rugs in the town in 1755 using what became known as the Axminster method of weaving.
The first carpets were bought by the likes of King George III and Queen Charlotte, who visited the factory.
The Whitty family firm went out of business in the 1830s, but the tradition was revived in the town in 1937, when Harry Dutfield, the son of a Glasgow carpet designer, founded the current company.