Police to investigate Dartmouth care home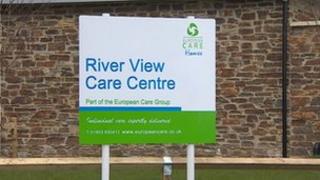 Allegations of neglect at a new private care home for the elderly in Devon are being investigated by police.
They say five residents at River View Care Centre in Dartmouth have been moved into community hospitals amid concern for their care.
The NHS and Devon County Council have suspended new placements to the home.
The European Care Group, which runs the home, blamed the "disappointing behaviour" of a small group of individuals who no longer work there.
The company, one of the UK's biggest providers, said it was carrying out a "thorough internal investigation". New management had been brought in, it said.
'Nurse raised alarm'
Inspectors from the Care Quality Commission made two visits to River View after claims of neglect at the home.
BBC South West health correspondent Sally Mountjoy said: "The alarm was raised - apparently by an NHS nurse - because some residents were left unattended for long periods, and some without food and drink for many hours.
"The company denies the home was under-staffed but blames some employees, who are no longer working at the home, for the failures."
A spokesman for the CQC said it would publish its findings in the "next few weeks", but in the meantime it was monitoring the home and would "take action if necessary".
A spokesperson for Devon and Cornwall Police said a multi-agency meeting had taken place and NHS staff had been brought in to look after residents who were staying on the site.
The £5m facility on Victory Road in Dartmouth has 80 bedrooms on four floors. It opened just under three months ago.
On the European Care Group website, it is described as providing "personalised nursing and residential care for older people with dementia, physical disabilities, as well as end of life care".
The NHS and Devon County Council confirmed they had suspended new placements.
In a statement, they said: "The home's owners are making positive efforts to comply with CQC's standards, but our suspension of places to the home will remain in place until we are completely satisfied that all the requirements are being fully met."