Honiton fire deaths: Tributes left to three young people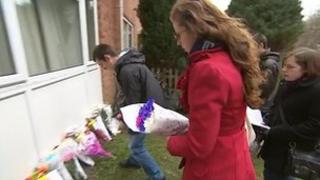 Floral tributes have been left outside a house in Devon after a fire which killed two teenagers and a three-year-old boy.
The blaze broke out at Lee Close in Honiton at about 08:00 BST on Friday.
Eight people were in the house at the time, seven members of the same family and one other.
The Reverend Sue Roberts, Vicar of Honiton, said the community was "devastated" by the deaths.
An investigation into the cause of the fire is continuing but police are not treating it as suspicious.
Collections have been taking place for the family and a Facebook page which was set up to collect furniture and other items has nearly 700 members.
Angie Clarke, a neighbour of the family, said: "Everybody is in such shock that it's happened.
"They were a lovely family, always happy, always laughing.
"There was so much happiness from that family house."
Reverend Roberts said: "What a tragedy to happen to any family.
"We're devastated by the thought of something like that happening within our own community.
"Our hearts, thoughts and prayers go out to all those involved."
Councillor David Foster, the mayor of Honiton, said: "It was a great tragedy, particularly because the lives of the three that were lost were so incredibly young.
"But I'm very proud of Honiton as a town, there's been several charities arranged already, there's been a furniture collection point and accounts set up for people to donate money to the family.
"There's a real sense of the community coming together."
The three-year-old died at a burns unit at Bristol Royal Hospital for Children at the weekend.
The 17-year-old girl and 18-year-old man were treated at the Royal Devon and Exeter Hospital but died from their injuries on Friday.
A six-year-old boy and a 36-year-old man were treated in hospital for the effects of breathing in smoke, but were later discharged.