Bodmin heroin supply family jailed for drugs ring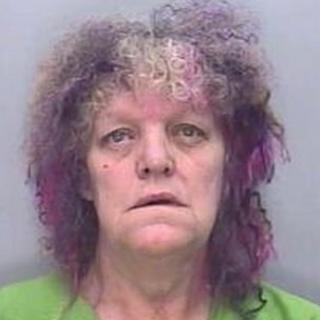 Three generations of a family from Cornwall have been jailed for their part in a heroin supply chain.
Teresa Wood, 63, of Furze Hill, Bodmin, was found guilty of conspiracy to supply heroin last year.
Her husband, two sons and grandson pleaded guilty to the same charge. The family were sentenced earlier alongside 11 other defendants in the same case.
During her trial the court heard that Teresa Wood was caught with heroin with a street value of £50,000.
She was on the way back from what she claimed was a trip to Torquay with her husband to play bingo.
The heroin was found in her shopping bag alongside some Cornish pasties she had bought.
She claimed it had been "thrown" into the bag when she was not looking.
She was jailed for four years at Exeter Crown Court.
'Family business'
Her husband, Michael Wood, 75, received a six-and-a-half year sentence.
Their son, Ivan, 43, of Monument Way, Bodmin, was jailed for nine years.
His brother, Calvin Wood, 41, and son, Jake Wood, 24, of Monument Way, Bodmin, were given four years each.
The family were among 16 members of the same drugs ring being sentenced by Judge Francis Gilbert.
He told Ivan Wood that he had a "leading role" in the crime.
"It was your business supplying drugs in Bodmin," he said.
Police surveillance suggested his father had made about 50 drug pick-ups from Torbay.
Judge Gilbert told him: "You were a very busy courier."
Of Mrs Wood he said: "You played a lesser role but you were fully aware of what was going on."
During Teresa Wood's trial, Mr Ray Tully, prosecuting, said: "Various members of the Wood family were involved, including Teresa, her husband, her sons, and grandson.
"They were all deeply involved in the supply of heroin. It was, in effect, a family business."
The drugs supply chain stretched from Liverpool to Torbay, with heroin then being moved on to Bodmin.
The Woods were caught as a part of Operation Raby, a major police initiative to stem the flow of drugs into Devon and Cornwall.