Devon bird spotting 'atlas' to be produced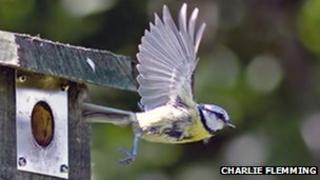 The first county-wide survey of birds in Devon for 25 years is being compiled for a new ornithology "atlas".
For the last six years, Devon Birds, a group dedicated to the conservation of birds, has been compiling data on bird sightings in the county.
The society is appealing for help from bird watchers across Devon to complete its fact-finding process for the atlas, which will be published in 2014.
Its members want help researching blue tits, wrens and tawny owls.
'Negative record'
Stella Beavan, chairman of Devon Atlas committee, said: "The well-watched areas, mainly along the coast, have a good level of reporting. Away from these areas, the records are distinctly patchy.
"We know that certain bird species are there and almost certainly breeding but, without a confirming sighting, the atlas has to publish a negative record, which is why we need people's help."
The society has joined forces with the British Trust for Ornithology (BTO) to allow people to record sightings and breeding sites through its website.
The trust carried out a nationwide bird count between 2007-2011. The new research will compare findings with that work.
These sightings are then independently verified.
The society is asking anyone wishing to take part to record all the birds they see and hear in a 2km by 2km square (1.24 miles by 1.24 miles).