Devon County Council election sees 313 candidates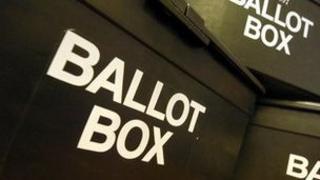 A total of 313 candidates are to fight for 62 seats in this year's Devon County Council elections.
The Conservatives are fielding a full slate of candidates in all wards. UKIP is battling in 61, Labour in 59 and the Liberal Democrats in 57.
The Green Party is fielding 49 candidates. There are also 17 independents standing, as well as one BNP candidate in Exeter.
The poll is being held on 2 May, with the results due on 3 May.
Also standing is one Liberal, four candidates from the Trade Unionist and Socialist Coalition, and one Communist Party candidate.
The council said about 600,000 people were eligible to vote in the poll, which is held every four years.
Those elected would be dealing with an annual budget of about £1bn a year, it added.
The Conservatives currently control the council with 41 seats.