Plymouth's Derriford Hospital misses cancer targets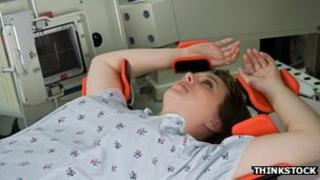 A Plymouth hospital has missed targets to start cancer treatments within recommended times, a report says.
Anyone urgently referred by their GP for suspected cancer should start treatment within 62 days, and hospitals should treat 85% of patients in that time, the government says.
Derriford Hospital only managed 81% in the past year, a report to its board said.
The hospital said the most serious cases were dealt with quickly.
Other pressures
The missed targets put Derriford in the bottom 10% of all trusts in England dealing with such cases.
The Plymouth Hospitals Trust's medical director, Dr Alex Mayor, said some cancers, such as lung cancers and some urology cases, such as prostate cancer, required a complex series of diagnostic procedures and this could cause delays.
He added that the most serious cases were dealt with quickly.
He said: "It is something we are concerned about and that we are working to address."
Derriford has to manage other pressures at the moment, BBC South West health correspondent Sally Mountjoy said.
She said: "It's trying to shift a backlog of 23,000 patients waiting for follow-up appointments, and to cope with a 6% rise in emergency work.
"That has led to more cancelled operations. In February alone, 94 patients had surgery called off at the last minute.
"Dr Mayor said they tried hard to ensure cancelled patients got their operations within four weeks."
The hospital treats patients in the Plymouth area and south-east Cornwall.