Devon pig farm plan worries residents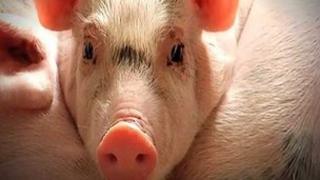 A proposal for a farm that would have up to 8,000 pigs has angered some neighbouring residents.
People living near the proposed farm by the Exe Estuary in Devon said they were worried about noise, smells and the extra traffic if the scheme went ahead.
The National Pig Association said it would welcome any investment in the industry.
JMW Farms and the Powderham Estate, which owns the land, said proposals were "in the very early stages".
'Huge concern'
John Miller, one of the residents concerned about the project, said: "I have got nothing against agriculture at all.
"We're in an area of farm land, so we have a lot of cereal crops around and sheep farming. I feel that this is more like factory farming and it doesn't fit in with the area."
Another resident, Jo Bowen, said: "It's created a huge level of concern, our area is about traditional farming and tourism.
"This sort of intensive factory farming will have a dire effect on our communities. If (a planning application) is put in, there will be big opposition."
Many residents living in the area have set up a website called Stop Powderham Estate Pig Factory, in an attempt to explain their concerns.
'Need profit'
The National Pig Association said any investment in the industry was welcomed and all farms have to stick to strict limits on noise and odours.
Zoe Davies, from the association, said: "We already import 60% of the pork eaten in the UK. I am struggling to keep the remaining 40% in business.
"We need re-investment, people operating in latest technology buildings and we need people to be profitable."
Proposals have not yet been submitted to planners on Teignbridge Council but a scoping report is underway.
The NPA said while this was a large proposal there were bigger ones in other parts of the country.