Wreck the World frigates bid for Torbay diving reef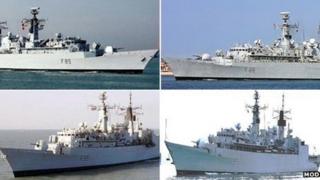 A group which wanted to sink the Ark Royal off Torbay to create an artificial diving reef is to bid for four other ships.
Despite a £3.5m bid by Wreck the World, the Ministry of Defence (MoD) sold the Royal Navy aircraft carrier to Turkey last September.
Wreck the World will bid for HMS Chatham, Cornwall, Cumberland and Campbeltown - all type 22 frigates.
The group said having a dive attraction would boost the local economy.
Spokesman Michael Byefield said the former naval frigate HMS Scylla - sunk off Whitsand Bay in Cornwall in 2004 - had generated millions of pounds for Plymouth and the surrounding area.
'Living organism'
If the invitation to tender (ITT) is accepted, the group may then be able to specify which former warship it wants.
"In order of preference, it would be Chatham, Cornwall, Cumberland and then Campbeltown - but we'd be delighted to get any of them," Mr Byefield said.
The vessel is likely to cost between £500,000 and £700,000, but the associated costs of preparing it as a diving reef would bring the overall cost to £1.2m.
Mr Byefield said the group had a private investor who is "very interested" in the project.
"For what it would bring to Torbay, the £1.2m is insignificant, but it's massive if you haven't got it," he said.
Mr Byefield said creating an artificial reef was a "superb" way to treat the sea as it would benefit the local fisheries industry.
"The fish it will encourage to come will help our fish stocks in the long run," he said.
"You're putting something on the seabed that doesn't belong there, but as soon as the metal's gone you're left with an actual reef - something that's magnificent and a living organism."
The tender closing date is 22 April and the MoD's decision should be known within two to four weeks.
A 125-year lease for a wreck site, agreed in principle with the Crown Estate last year, is still in place and the project has the backing of Torbay Council, the harbour authority and the Maritime and Coastguard Agency.
If the group, which is currently seeking charitable status, is successful, the frigate could be scuttled as early as this autumn.
Mr Byefield said the group had been working closely with boat builder A&P Falmouth and a local salvage company.
"It will take about three months to strip the ship, flush out any contaminants and make sure it's pristine and diver safe before it goes to the sea bed," Mr Byefield said.
As part of the ITT bid, Wreck the World has had to specify how the frigate would be sunk, which could either be by detonation - with specially designed explosives - or by flooding.
"Either way, there'll be fireworks going off when the ship goes down," Mr Byefield added.