Reassurance plea after patients' records found on road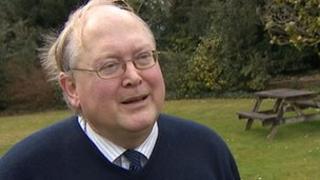 Patients are being reassured that their medical data is safe after two courier bags of records were found on a road in Devon.
Jo Bell, from Dawlish, spotted the bags on the A379 near Powderham Castle, near Exeter, on Wednesday afternoon.
The documents were destined for the Royal Devon and Exeter (RD&E) Hospital and have since been returned.
Dr John Pickard, from Devon's Local Medical Committee, said it was a "very, very rare occurrence".
He said: "I can't remember in nearly 40 years of working in the health service, of this occurring in Devon.
"I'd like to reassure patients this is a very rare occurrence.
"I'm sure that I speak for all the GPs and hospitals in the area that we do take looking after your records very seriously."
On Thursday, the RD&E NHS Foundation Trust said: "We recovered two packs of confidential patient notes that were destined for the RD&E from Torbay Hospital."
It said it was "deeply concerned" the records had been mislaid and was carrying out an "urgent investigation" into the matter.
The South Devon Healthcare NHS Foundation Trust, which manages Torbay Hospital, confirmed a joint investigation with the RD&E was taking place.