Baby orangutan born at Paignton Zoo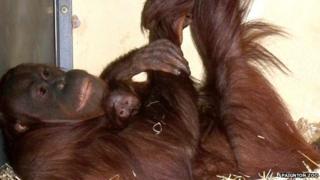 An "enchanting" baby orangutan has been born at Paignton Zoo in Devon.
Mali, a Bornean orangutan, produced the first orangutan birth at the zoo for 16 years on Thursday.
The baby will not be named until keepers are able to determine if its male or female.
Zoo spokesman Philip Knowling said: "Mali's doing such a really great job as a mum. We don't want to mess things up so we'll be very 'hands off' for the moment."
"The best thing possible is to leave Mali with the baby and only interfere if it's really necessary."
No veterinary intervention is planned, so keepers will observe closely and as the baby becomes more mobile, they will be able to see what sex it is.
Hunting and trade
It is the first live offspring for 18-year-old Mali who had a stillborn baby before she was transferred from Munster Zoo in Germany to Paignton in 2007.
The baby will remain with its mother for several years - possibly up to 10 - before it might have to be moved to another zoo as part of the European Endangered Species Programme.
The decline of the Bornean orangutan has been blamed on hunting, the pet trade and destruction of its rainforest habitat.
Paignton Zoo said the population in the wild has fallen to an estimated 50,000 - less than the population of Torquay.
In 2008 the zoo announced its male orangutan Demo had impregnated all three of its females, but each turned out to be a false or "phantom' pregnancy.
However Neil Bemment, the zoo's operations director and curator of mammals, said the new arrival had been worth the wait.
"We are absolutely thrilled that our years of patience have been rewarded and that Mali is proving to be an excellent and attentive mother.
"The babies are such enchanting and vulnerable looking creatures that you can't help but want to do something to save orangs from extinction."