Cranbrook gets green light to build two new schools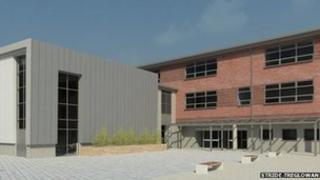 A new town in Devon has been granted planning permission to build a secondary school and a second primary school.
The schools will form part of an "education campus" in Cranbrook, near Exeter.
Its first school, St Martin's Primary, opened in September.
Now East Devon District Council has approved a 1,000 place secondary school and a 420 place primary school, both scheduled to open by September 2015.
The council said the new schools would cater for children through to age 16.
They will have academy status with an education provider to be selected by Devon County Council and the secretary of state for education.
The schools will be built using part of a £20m investment from the Homes and Communities Agency's (HCA) Local Infrastructure Fund.
The designs for the "education campus" also allow for a 200-place University Technical College to eventually be built, and include sports facilities for the schools and local community to use.
Cranbrook is scheduled to have about 6,000 homes by 2026.