Appeal to Totnes parents over low take-up of MMR jab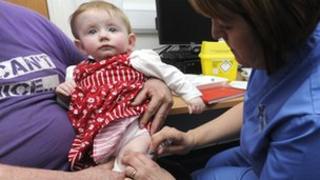 A Devon MP has warned that the risk of a measles epidemic in her constituency is even greater than in Swansea, which is currently experiencing an outbreak.
Dr Sarah Wollaston, Conservative MP for Totnes and a former GP, said 30% of five-year-olds in the town had not received both doses of the MMR vaccine.
Writing on her blog she said only 10% of children in Swansea had not had the measles, mumps and rubella jab.
Totnes, in South Devon, is known for its "alternative lifestyle" image.
Dr Wollaston said: "In Totnes the risk of a measles epidemic, should the virus arrive from Wales, is even greater as 30% of five-year-olds have not received both doses of MMR."
'Herd effect'
In 2011/12 just 70.4% of children in Totnes were immunised by age five compared to 93.9% of children in nearby Brixham.
The take up in Devon as a whole is 87% and the national target to ensure "community protection" is 95%.
The figures come from South Devon and Torbay Clinical Commissioning Group (SDTCCG) which has launched a campaign to encourage more parents to get their children immunised in South Devon.
Dr Wollaston said she believed the reason many parents in Totnes rejected the MMR vaccine was because of claims made by the now-discredited Dr Andrew Wakefield that the jab was linked to autism and bowel disease.
She described "herd immunity", the protective effect that results from a high uptake of vaccination.
"The real 'herd' effect may be an unwarranted fear that vaccination is harmful or the belief that 'natural' methods like homeopathy can boost a child's immunity and thereby offer a safe alternative to protect against this virus."
'Peer pressure'
Christina Edlund-Plater is admissions officer at the South Devon Steiner School, an alternative independent school just outside Totnes.
She said: "We absolutely do not make any recommendation to parents on what they should or shouldn't do regarding immunisation.
"But in Totnes there might be quite a lot of peer pressure on parents [not to immunise].
"As soon as you get a lot of people asking questions you are going to get parents questioning both ways."
Dr Sam Barrell, a Brixham GP and the SDTCCG's chief clinical officer, said: "The MMR is a well-tested vaccine and offers protection against three of the most infectious childhood diseases.
"Measles is highly infectious and while most get over it quickly, for some it can have life-changing consequences."