Specialist ambulance HART hub planned for Skypark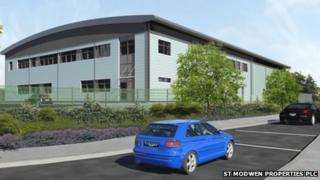 A specialist ambulance hub is to be built at the new £210m Skypark business centre in Exeter, Devon.
The purpose-built operations centre for South Western Ambulance Service NHS Foundation Trust will be a hazardous area response team (HART) base.
If the application is approved by East Devon District Council planners, the new hub could be ready next year.
Specially trained and equipped paramedics will be based at the centre along with eight ambulance staff.
Trust spokesman John Oliver told BBC News the additional staff would be able to provide a "conventional" ambulance station service for the growing local community at the new town of Cranbrook.
The HART units - made up of seven teams of six - will be on call 24 hours a day at the Ambulance Special Operations Centre (ASOC) to respond to multiple casualties, people trapped in collapsed buildings, flooding or hazardous materials incidents.
'Ideal' motorway access
The ambulance trust area covers the greater South West, including Devon, Cornwall, the Isles of Scilly, Dorset, Somerset, Bristol, Gloucestershire and Wiltshire.
Ken Wenman, the trust's chief executive, said the new Skypark centre was "ideal" as the HART base because of where it was.
"We required a location that would enable us to respond to a wide range of challenging incidents as quickly as possible at any hour of the day," Mr Wenman said.
"Skypark proved an ideal solution with its quick access to the motorway and the communities along the M5 corridor."
About £11m has been spent on major improvements to junction 29 of the motorway, including new slip roads to the Skypark development, the new town of Cranbrook, the A30 and Exeter's new science park.
The planning application for the 24,165 sq ft specialist hub has been submitted by developer St Modwen with its joint venture partner, Devon County Council.