Plymouth 'blighted by inequalities' says fairness tsar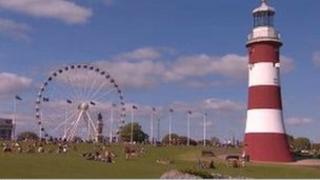 Inequalities between rich and poor are "blighting" Plymouth, according to the head of the city's Fairness Commission.
Dame Suzi Leather is leading a year-long project to "drive out unfairness and inequality" in the city.
Issues like lower life expectancy between rich and poor people in the city and GCSE results will be targeted.
She told BBC Radio Devon: "It's a city with fantastic natural advantages but it is blighted by persistent inequalities."
Not 'a gimmick'
There have already been commissions in London, Sheffield, Newcastle and York.
Dame Suzi, who used to chair the Human Fertilisation and Embryology Authority, claimed the Fairness Commission was not "a gimmick".
She said: "There is a 12.6-year gap in life expectancy between rich areas and poor areas."
On education, the fairness tsar said: "Even in [London's] Tower Hamlets, which has much higher poverty levels and people whose first language is not English, kids are doing much better than our kids at GCSEs.
"We are determined to get to the bottom of some of these inequalities.
"How you cut the cake when the cake's smaller matters much more."
Labour councillor Tudor Evans, Plymouth City Council Leader, said: "We've asked for the Commission to be set up and its work will be based on the main principle that the most vulnerable people in Plymouth should get the most support.
"At a time when public resources are being stretched to the absolute limits, it's so important to ensure what cash we do have is targeted at the people and places that will make a real difference."
The creation of the Plymouth Fairness Commission was ordered by Plymouth City Council.
The Commission will be independent and its commissioners, made up of representatives from the police, health sector, charities, community groups and private companies, are working for free.
The group will interview "expert witnesses" and hold community meetings before producing a final report in 12 months' time.