Charlotte Shaw mother loses school death claim appeal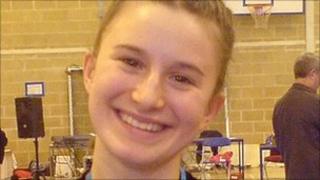 The mother of a 14-year-old girl who died after falling into a Dartmoor river has lost her appeal for £350,000 damages against her daughter's school.
Charlotte Shaw fell into the swollen Walla Brook in March 2007 while training for the Ten Tors trek.
Jennifer Wilkin-Shaw, claimed Edgehill College (now Kingsley School) teacher Kathryn Timms failed to meet Charlotte's group at a checkpoint.
But an Appeal Court judge said her negligence had not caused the tragedy.
Lord Justice Pill, Lord Justice Moore-Bick and Lady Justice Black were told the teacher had failed to meet the group of teenagers at a pre-arranged checkpoint at Watern Tor.
While acknowledging that map-reading on Dartmoor would have been "far from easy", Lord Justice Pill said Miss Timms had given no explanation or justification for her navigational error, apart from the poor weather conditions.
Map-reading skills
He said high standards of map-reading skills were to be expected of those training 14-year-olds during an expedition on Dartmoor.
"There must, in my judgment, be a finding of negligence against Miss Timms."
However, Justice Moore-Bick dismissed Mrs Wilkin-Shaw's case, ruling that Miss Timms's absence from the checkpoint had probably made no difference to the tragic outcome and could not fairly be attributed to Charlotte's death.
Charles Hattersley, Mrs Wilkin-Shaw's solicitor, said while she was disappointed with the Appeal Court's ruling, she also felt vindicated at the judge's finding of negligence against Miss Timms.
"This has never been about the money - it was about getting to the truth," he told BBC News.
Last year, Mrs Wilkin-Shaw went to the High Court, claiming the private school's language teacher Christopher Fuller had failed to properly supervise the teenagers during their training.
Mr Fuller and the school, however, were cleared of blame by Judge Mr Justice Owen, who said the responsibility lay with a scoutmaster, who had met the youngsters on the moor and tried to help them by directing them across the brook.
Lord Justice Pill also concluded Charlotte's accident was the consequence of the "well meant but ill-advised" intervention of the scout master.
Mr Hattersley said it was "disturbing" that the scoutmaster, who has since died, had been blamed.
"[Mrs Wilkin-Shaw] has never believed he was responsible - all he was guilty of was trying to help them," he said.