Volunteers asked to count PIB-covered seabirds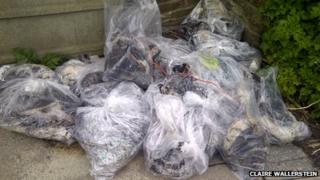 Volunteers are being sought to help search Devon's coasts in a bid to count birds covered in a glue-like substance.
The Devon Wildlife Trust said it was asking participants in its emergency seabird survey to check public beaches so it could get a more accurate picture of the scale of the problem.
Counters should also photograph any bird's identification ring, it added.
The RSPB said more than 700 birds had been affected in Devon and Cornwall by polyisobutene (PIB) since 10 April.
The trust said surveyors should not put themselves at risk, but, if they took part, they should note which beach they had looked at, when it was done, and how many living or dead birds were seen.
Surveyors should not attempt to touch or collect dead birds, but if one is found alive, they should contact the RSPCA, it added.
PIB is used by ships to make their engines work more efficiently and can be released into the sea legally under certain conditions.
The Maritime and Coastguard Agency (MCA) said it was trying to determine the source of the substance.
In February, the same substance affected more than 300 birds in the South West.
The RSPB has called for it to be reclassified and discharges of the substance to be outlawed.
Earlier this week, the Cornwall Wildlife Trust said it was concerned both incidents this year "could wipe out a whole generation of seabirds".