Devon councillor forced off radio under election rules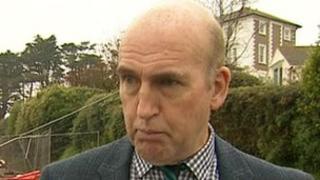 A Devon county councillor is "gutted" after election rules forced him to stop broadcasting on community radio.
Stuart Hughes, Conservative councillor for Sidmouth and Sidford, has been presenting "Wake up with Huggy" on Bay FM since the end of March.
He was taken off air because he is standing for re-election in May's local government elections.
"It's a weird and wacky music show - totally non political - so I'm gutted," Mr Hughes told BBC News.
Ofcom, the industry regulator, confirmed it had been made aware of the situation and was currently assessing it, so could not comment further.
'Raving Loony'
Its Broadcasting Code states that candidates in elections "must not act as news presenters, interviewers or presenters of any type of programme" during the election period.
Mr Hughes, who was originally elected as a Raving Loony Green Giant Party candidate in 1993, made a spoof video in 2010 to explain East Devon District Council's planning to young people.
He said he was "totally unaware" he should not be broadcasting in the run-up to an election.
"Of course I wouldn't have gone on if I'd known - but this is a community radio station and it's 'Wake up with Huggy', not 'Listen to Councillor Stuart Hughes'," he said.
"I'm broadcasting my show to the people of Exmouth, so the people in Sidmouth and Sidford probably can't even hear it.
"I don't get paid and I'm putting something back into the community, so it shouldn't be a problem."
Andy Green, station manager at Bay FM, said Mr Hughes' programme had "slipped through the loop", but had been taken off air "as a precaution" while the station was in discussions with Ofcom.
The candidates standing for election in Sidmouth and Sidford are Judy Blackwell (Labour), Martin Gammell (Liberal Democrat), Lawrie Brownlee (UK Independence Party) and Stuart Hughes (Conservative).
'Ignorance no excuse'
Ms Blackwell said: "If the programme's being broadcast in Exmouth and not Sidmouth, I can't really see the problem - but if there's a rule, there's a rule."
Mr Gammell said he supported the law on the restrictions regarding elections and found it surprising that an experienced politician such as Mr Hughes should make such a mistake.
"I fully support the withdrawal of the programme," he said.
Mr Brownlee said he was surprised that a party like the Conservatives had not checked the rules, adding that "ignorance of the law was no excuse".
Bay FM said "Wake up to Huggy" would return to the airwaves after the election on 2 May.