'Over zealous' Teignbridge council parking fine U-turn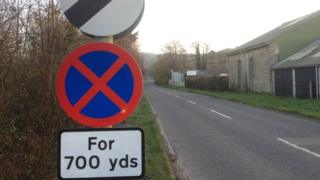 A council that issued parking tickets on a new Devon clearway as parents watched their children play football, is to overturn the penalties.
The cars were parked next to playing fields on the A382 near Bovey Tracey when they were ticketed on Sunday.
Parking on the road was unrestricted, until Devon County Council reclassified it about two weeks ago.
Teignbridge District Council, which enforces the parking rules, admitted it had been "over zealous".
Between 20 and 30 fixed penalty notices were issued by two parking enforcement officers, parent Martin Causey said.
Mr Causey, who also manages the local Bovey Tracey under-13s football team, said the officers "could have handled the situation a lot better".
"I am in the wrong - we all were - because the signs are quite clear, but we've been parking there for about nine years," he said.
"It must have been difficult for the traffic wardens dealing with a lot of angry parents, but they were so officious and wouldn't budge.
"If they'd just come to the pitch and said 'guys you can't park there any more', we might have moaned a bit, but we'd have moved the cars."
Teignbridge District Council said while it always tried to take a fair and proportionate approach, it was "happy to admit we were a bit over-zealous and will be refunding those who were ticketed".
Sue Edwards, the council's environment standards manager with responsibility for parking services, said she had spoken to the civil enforcement officers involved.
"It's not our intention to be constantly over zealous or appear to be an unfriendly council that can't be approached," she said.
Ms Edwards said because the clearway status had just recently been introduced there should have been a "bedding-in" process for a week or two, where drivers were given a warning.
Because of this, she said the council would "look favourably" on challenges to the fixed penalties.
Devon County Council said its decision to introduce the clearway was based on pedestrian safety as it would "exclude the obstructive parking" caused by cars using the roadside verges as an informal parking area.
A clearway sign - a red cross on a blue background - means no stopping and is used to indicate a 24-hour restriction, usually on a rural road.