Plymouth bus lane drivers fined £1m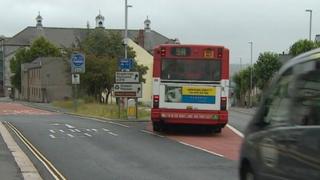 More than £1m has been collected in fines from motorists caught driving in bus lanes in the last eight months in Plymouth, the city council has said.
Almost 39,000 fines have been issued since six CCTV cameras were installed in August, Plymouth City Council said.
Drivers who are caught face a £60 fixed penalty charge.
The authority said the money received was being "invested back into Plymouth's transport network and services".
In August, a council spokesman said the aim was to keep traffic flowing and make the roads safer.
The £60 fine, which is issued to motorists caught driving in the lanes, is halved if the charge is paid within 14 days of it being issued.