Construction blacklist named 14 from Devon, says union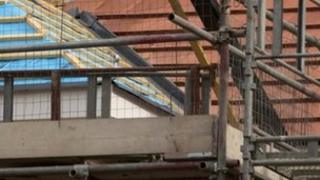 Fourteen Devon construction workers were on an industry blacklist, the GMB union has claimed.
The GMB has identified some of the workers on a list that emerged in 2009, when a watchdog found more than 3,000 people had been blacklisted.
It said blacklisting was continuing and called for anyone who thought they had been a victim to get in touch.
The UK Contractors Group (UKCG), which represents some firms involved in the blacklist, said the practice had ended.
In 2009 the Information Commissioner's Office uncovered the Consulting Association blacklist, which contained information on 3,212 people.
Some of the UK's largest construction companies subscribed to the list.
Safety concerns
For just £2.20 they could search and vet potential employees.
The blacklist detailed trade union links and described individuals as "troublemakers", "politically motivated" and even recorded whether they had raised health and safety concerns.
The GMB union launched a campaign to find out who was on the blacklist and has identified 200 people, including 14 unnamed workers from Devon.
Kamiljeet Jandu of the GMB said: "If anybody feels they have been blacklisted then please contact us.
"We are asking local authorities to ask construction companies if they have operated a blacklist and make sure they are behaving in a legal manner."
Tudor Evans, leader of Plymouth City Council, has presented a motion to the authority calling for tender documentation for construction projects to request bidders to confirm they do not subscribe to blacklists.
"We want no part of this shameful practice and we want to make sure that any companies we use have not been party to this sort of behaviour," he said.
The UKCG said in a statement: "The Consulting Association has been closed down since 2009 and there is no evidence that workers are being blacklisted today.
"Members of UKCG take health and safety very seriously and would certainly not discriminate against any employee for raising safety concerns."