Election 2013: Potholes mark Devon battleground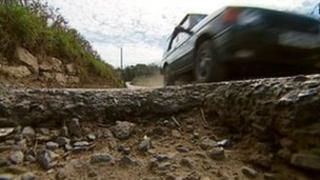 The state of Devon's roads is being targeted as a major battleground in county council elections.
Landslips and flooding damage to roads and bridges has cost the council more than £12m since January.
The ruling Conservatives defended their record, saying they were keeping promises they had made.
Labour and the Liberal Democrats admitted they would not have extra money to spend, but added they believed they could improve things for drivers.
Contract concerns
Devon County Council is facing a total bill of nearly £690m for road repairs, including the £12m from the beginning of the year.
The Liberal Democrats said the Conservatives had been too slow to renegotiate maintenance contracts to gain efficiencies.
They said they would take £2m from council reserves to fill some gaps.
Lib Dem Des Hannon said: "We all know there's not enough money to do a perfect to job on these roads.
"But it is perfectly possible to make contracts more effective, to make the money we spend go much, much further."
Labour said the current solution was too much make do and mend.
Jill Owen said: "Filling in potholes is not the answer.
"We need a proper sustainable option of doing the roads properly; not just filling in a hole and, five minutes later, it's a hole again."
The Conservatives denied they had got their priorities wrong.
Stuart Hughes said: "In 2010, there were over 200,000 potholes filled. So far this year we have filled 35,0000.
"We've made a commitment and we have put additional money in.
"We also said we would maintain one good road into any local community, and that is exactly what we are doing."
A total of 313 candidates are fighting for 62 seats on 2 May.