Fire at Plymouth car workshop declared major incident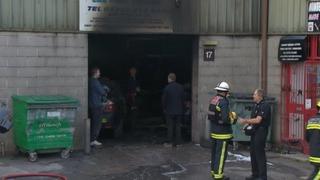 A blaze has broken out in a car body shop in Plymouth.
Five fire engines were called to the workshop at Miller Court in the Stonehouse area of the city, Devon and Somerset Fire Service said.
Police declared the fire a major incident because some of the smoke was believed to be toxic.
Nearby residents were told to stay in their homes with the windows closed before it was brought under control at about 18:00 BST.
'Really thick smoke'
A spray booth in the body shop was reported to be well alight when the fire was reported at about 16:05.
Fire crews had been concerned about gas or air cylinders in the workshop.
John Card, who runs a car body repair shop in the area, told BBC Radio Devon: "We all had to wear our paint-spraying masks because we couldn't breathe.
"The smoke was really, really thick. You couldn't see Miller Court.
"The firefighters and their equipment were black from fighting the fire."
Maggie O'Bolguidhir, who works at a nearby restaurant, said smoke was seen to be "coming out in bursts".
She said: "It looked like there were explosions happening."
Three small bangs were reported by staff at neighbouring businesses. They were believed to be paint tins exploding.
The workshop was severely damaged by fire and adjoining units were slightly damaged by smoke, the fire service said.
Cars inside the workshop were also badly damaged.
The cause was believed to be accidental, the fire service said.
Devon and Cornwall Police closed local roads, affecting traffic in the Millbay Road and Union Street areas.