Devon dairy farmers 'being squeezed out of industry'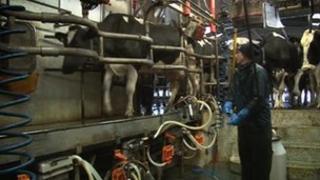 Dairy farmers in Devon say they feel they are being squeezed out of the industry, a meeting has heard.
More than 300 attended the meeting in Holsworthy on Wednesday evening to discuss concerns.
Farmers said the prices they were paid for milk by supermarkets were too low and, coupled with rising costs, many feared going out of business.
Supermarket representatives said they were big supporters of farmers and prices were continually reviewed.
'Looking for fairness'
The National Farmers Union (NFU) said it believed all supermarkets should offer a price for milk which covered the cost of production.
Figures from the Royal Association of British Dairy Farmers earlier this year said farmers, on average, received 25p a litre, but it cost them 30p per litre to produce.
Paul Griffith, of the NFU, said: "We are being slowly squeezed out of business.
"We're not looking for customers to pay more. We believe there is plenty of money to pass down the chain. We're looking for fairness.
"The supermarkets are taking ever-increasing margins out of diary products."
He added recent bad weather had resulted in a lack of grass growth resulting in poor quality winter silage, and farmers had to use feed which was "horrendously expensive".
Richard Dodd, of the British Retail Consortium, said supermarkets "pay what world markets dictates when it comes to prices".
He said: "Supermarkets make a relatively modest amount on any items they sell.
"They are bigger supporters of the dairy farmers they work with, but they can't be held responsible for the success or otherwise of the industry because they are not customers for all of its output.
"But, where they are responsible, they need that industry to be doing well so it can meet demand.
"They are constantly reviewing what they pay."