Devon GPs' fears for new NHS 111 service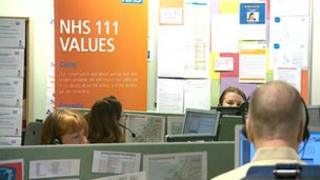 The head of Devon's family doctors organisation has "huge anxieties" about the launch of the NHS non-emergency number 111.
Dr Mark Sandford-Wood said there was a "real concern" among GPs about the 18 June launch of the service.
NHS 111 has led to complaints in other areas of the country about lack of staffing and training.
GP Simon Scott-Hayward, who is leading the creation of the Devon 111 service, said he hoped to "mitigate" problems.
The launch in Devon has been put back from 1 April to iron out any problems that have arisen elsewhere.
Some pilot regions have been unable to cope with the volume of calls or have suffered catastrophic IT failures.
Dr Sandford-Wood said: "Our real concern is for patients in Devon. The NHS 111 system has been shown to have real problems when it's been introduced elsewhere in the country."
He said that GPs were working "very hard" with those implementing the service "to limit the negative impact".
He added: "At its core is quite a good idea. It's about how it's introduced locally."
Dr Scott-Hayward said: "We are confident about levels of staffing. We hope to mitigate many of the problems elsewhere."