Benjamin Roach guilty of baby daughter's manslaughter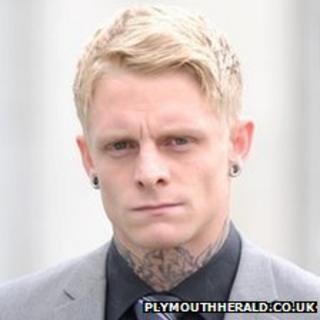 A man has been found guilty of killing his four-week-old daughter by shaking her violently the first time he was alone with her.
Benjamin Roach, 24, from Plymouth, had denied the manslaughter of Roxie-Jo Hopkins-Roach, who died in September 2010, but was convicted unanimously.
One of her injuries was similar to what might be seen as a result of a road crash, Plymouth Crown Court was told.
Roach, of Tailyour Road, is to be sentenced on Tuesday.
Roach may have shaken the baby before throwing her down hard on to a sofa or bed, and the baby would have been blind if she had survived, the court heard.
Baby 'became floppy'
Police were called to the house in Plymstock that Roach shared with Roxie-Jo's mother, Kelly Hopkins, on Thursday 23 September 2010.
Roxie-Jo was brought to hospital and admitted at about 19:00 BST. She was then taken to a high-dependency unit where she died the day after, police said.
Ms Hopkins, then 21, had left Roach and the baby in the house alone to get medicine for her baby, the court heard.
Roach told police that Roxie was "screaming" and "crying heavily" after he was left alone with her.
He picked her up to calm her down but said she suddenly became "floppy".
Roach later changed his story and said he had dropped her four feet (1.2m) on to a carpeted floor.
He also told police he shook her in "panic" when she lost consciousness to try to get a response from her, the court heard.
'Cherished memories'
After the verdict, Ms Hopkins said her daughter "can now rest in peace and justice has been served".
She said: "Losing my daughter, my parents' granddaughter and niece to my brother and sister will always remain the hardest thing that has happened to us.
"Although now all I have is memories, these are memories I will cherish throughout the rest of my life.
"The justice I have fought for, for finding the truth about what happened to Roxie and knowing she is now in a better place, has been all I've wanted and now I can finally say I have achieved it."
Det Insp Costa Nassaris, from Devon and Cornwall Police, said: "I am glad that justice has finally been done for baby Roxie and her mother, Kelly.
"She has shown great courage and determination in her desire to get answers for herself and get justice for her daughter."