Military-style motivation for Devon's unemployed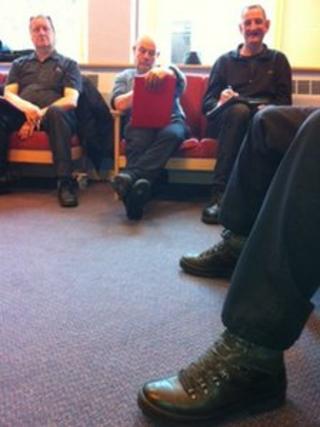 "Don't worry no-one's going to get water-boarded or have bright lights shone in their eyes."
It is not the most reassuring way to start a session on how to succeed in job interviews, but for those who find sitting in front of a panel of interviewers a certain kind of torture it may seem apt.
John, the ex-Special Forces operative who is leading the Active Plus Job Centre Plus training session, goes on to explain that it will be based on his knowledge of military interrogation techniques.
The group of seven men and three women taking part in the six-week course in Exeter are gripped as he offers tips on how to make a good impression and avoid making a bad one:
"Be aware that you may be being observed as soon as you arrive," he explains.
"You're in enemy territory as soon as you enter the car park."
Active Plus has been running its motivational course for unemployed people over 50 for about two years.
It started in Cornwall and has now branched out into Devon and Somerset.
The first course is starting in Dorset at the end of May.
All the trainers, including John, are former servicemen who are suffering from physical injuries or Post-Traumatic Stress Disorder (PTSD).
Many of them are volunteers who became unemployed after leaving the military and took part in the course to get their confidence back before going on to help run it themselves.
Paul Hope, the course mentor, suffered PTSD after spending 22 years in the Royal Navy.
'Inspirational role-models'
He said: "Depression issues, the financial side of things, all the many difficulties you associate with being out of work, we've all experienced it.
"We take participants through team-building and communications, dealing with anxieties and lowering barriers.
"You see such a difference from the day they come in when all their body language is closed-in and they don't want to introduce themselves, to the end when they're all lively and their confidence is so high.
"They're firing on all cylinders and they're eager to go out and get jobs."
One of the course participants is Clyde Perry, a telecoms worker who spent the last nine years working abroad.
He said: "The course is different, it keeps your spirits up a bit.
"It can get a bit depressing just talking to people in the job centre."
David Davenport, a purchasing manager from Lapford, agrees: "Being unemployed is lonely because you're not communicating with people.
"This is good for motivation and the feeling that everything hasn't come to a stop."
Sylvia Massey, from Exeter, is a former self-employed gardener.
She said: "It's nice to meet different people from different backgrounds and do different exercises, it's fun.
"A lot of it is learning to listen to other people and learning to be a team."
The Active Plus course is being funded in the South West by Job Centre Plus
New jobs
Carolyn Webster, local strategic development manager for Job Centre Plus, said: "People build trust and friendships and the groups really bond.
She said the veterans were "inspirational role models."
The results so far reveal that approximately 28% of people (23 out of 81) who have completed the course have found work and another four are doing training and work experience.
Mrs Webster said she hoped the course would be rolled out further across Devon, Cornwall and Somerset.
Active Plus is a not-for-profit organisation set up by former Cornish firefighter Tim Cocks, it began by running courses for isolated elderly people living in rural areas before branching out to work with the unemployed.
Julian Harman, the Exeter course co-ordinator who suffered with PTSD after serving in the Falklands, said: "So many people who have been unemployed tend to have this belief that they're purely on their own.
"It's a big pull making them into a team, they go home and feel better about themselves."