Sherford new town gets £32m kick-start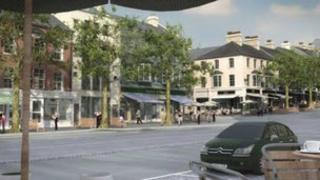 The government is providing a £32m loan to kick-start the building of a new town near Plymouth.
Housing Minister Mark Prisk told BBC Radio Devon plans for Sherford had been "stuck in the system" for a number of years.
There are proposals for 5,500 new homes as well as schools, businesses and community facilities.
But there are concerns from some local people that it will have a detrimental impact on the area.
Mr Prisk said: "This has been stuck in the system for six or seven years... and thought about for even longer than that.
Market town
"There's a big worry for local people around whether their children or grandchildren will be able to continue to live locally.
"What I like about Sherford is that this is a market town, as it's developed you'll get facilities with the homes, this is not a housing estate, this is a community."
Mr Prisk said the Sherford project, set up by developers Red Tree was also expected to create 5,000 jobs and bring £1bn investment into the local economy through construction.
Asked about the impact on wildlife Mr Prisk said there would be "stringent new ecological measures" put in place to protect plant life and wildlife.
Councillor Patrick Nicholson, Conservative planning spokesman on Plymouth City Council, said he was "hopeful" the government's contribution would be enough.
"The key is to get the infrastructure to facilitate the development," he said.
"Viability has been a big issue."
The town, which would be a similar size to Totnes, will include three primary schools, a secondary school and a health centre as well as land for retail and business, a community park, and two wind turbines.
Julie Leffleigh, from the Plymouth suburb of Elburton, lives next to where Sherford would be.
She said: "It's going to be an awful lot of homes and we don't want it.
"It's so lovely looking out here on to green fields, I was brought up here."
"I think this will finish Elburton, it will be like a concrete jungle," she added.