North Devon home midwife visits could be scrapped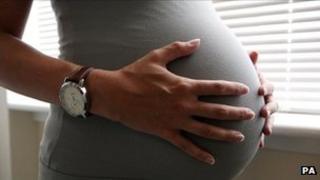 Home visits by midwives to expectant and new mothers in north Devon could be scrapped except in "exceptional" cases.
Northern Devon Healthcare NHS Trust said it was overhauling services to plug a £1m hole in its budget.
It said expectant and new mothers would have to travel to a GP's surgery to see a midwife.
Northern, Eastern and Western Devon Clinical Commissioning Group (CCG), which commissions the service, said it had to make "efficiency changes".
The NHS trust, which provides maternity cover across North Devon and Torridge said the change came amid a cut in maternity services funding, from about £5m to £4m.
It blamed the government system of paying hospital trusts for the work they do, the Payment by Results Tariff.
It said this was worked out nationally using an average system and smaller rural trusts ended up with less cash.
'Fundamental change'
The CCG said it had already put an extra £1.1m into the service, but the trust said it should have been more generous.
The trust's medical director Alison Diamond said: "In this area it is a fundamental change.
"There have been mums visiting midwifes in GP surgeries, but there has been a level of home visiting as well which enables midwives to view mums and babies in their home environment."
Dr John Wormersley from the CCG said: "We have to make efficiency changes, but we are insistent that the quality of the services remains the same.
"Home visits in the future will be based on clinical needs. There's no doubt that some people require home visits and if they require a home visit they will get a home visit."
The Department of Health said: "The NHS locally can agree to variations to funding to ensure sure that services meet the needs of patients."