Police use CS spray in playground fight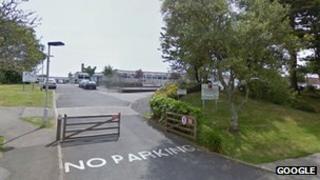 Police used CS spray to break up a fight between parents in the playground of an infants school.
The fight broke out at Penryn Infants School in Cornwall as children waited to be collected.
Devon and Cornwall Police said some people began "behaving in a disorderly way".
Officers were forced to use captor spray, a pepper-based CS spray, on a man who was allegedly assaulting a pupil's mother.
A man was arrested and has been released on bail until July, pending further inquiries.
The spray is believed to have been deployed in front of children in the school playground during the incident last Thursday.
A force spokesman confirmed that the spray was used in the playground.
He said: "The use of CS spray is an effective tool for officers, particularly in public order and violent incidents, in order to prevent escalation of an incident, to bring it to a swift conclusion and prevent injury to victims and innocent members of the public."
No-one from the school was immediately available for comment, but it is understood the head teacher has written to parents about the incident.
"It is a matter for the school because it happened on the school premises," said education authority Cornwall Council.