Devon Tory leader in quit threat over 'loons' claim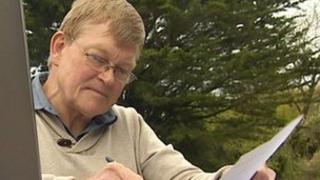 A Conservative association leader says he will quit if it is proved that a senior Tory did describe activists as "swivel-eyed loons".
Reports claim the term was coined by an ally of the prime minister who blamed activists for urging MPs to amend the Queen's Speech.
Mr Cameron later emailed activists, praising their "duty and decency".
But Robert Oxborough, chair of Torridge & West Devon Conservatives, said many local party members were upset.
He said many had strong views on issues like Europe and some had left the party because of the inclusion of gay marriage in the Queen's Speech.
He said: "In the last six months we have lost 65 members. Some of those are a consequence of people dying and moving away and there is nothing we can do about that.
"But a number of members have left as a consequence of government policy.
"They see themselves as being more and more out of tune with government policy and therefore not able to be sympathetic to Conservative values at this time."
'Politically disastrous'
He said that he would feel "rather angry" if the "loons" comment was true.
"It's an allegation, it's not been proved, although if it is proved and if there is not an apology forthcoming before it is proved then I would certainly consider my position as chairman of the Conservative association.
"Because if that's really how people in the centre feel I would question why I am doing what I am doing."
The constituency MP Geoffrey Cox could not be reached for comment.
Gary Streeter, the Conservative MP for South West Devon, said: "What he has described is happening in my area also. We have upset our grassroots supporters with some of our policy ideas and it's been politically disastrous.
"We have had our 12 months of madness and for the next two years we will focus ruthlessly on the things that really matter this country, the economy, the deficit, reforming public services, immigration, law and order."