Adult club licence warning after Divas manager convicted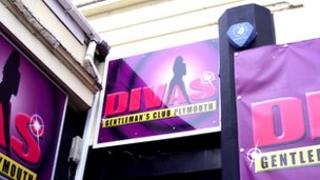 Adult club owners and staff have been warned by police to ensure they keep to licence conditions after the conviction of a lap-dancing club manager who was found guilty of more than 50 breaches.
Anthony Bowman, 50, was found guilty by Plymouth magistrates of 52 licence breaches at the city's Divas club.
Devon and Cornwall Police said he turned a "wilful blind eye" to dancers and customers touching.
Officers said they were always prepared to use courts to enforce licences.
'Systematic breaches'
Bowman, of Southway Drive, had denied the offences, but was found guilty and ordered to pay an £800 fine, £620 costs and £15 victim surcharge on Tuesday.
He also had to forfeit his personal entertainment licence.
Magistrates heard the breaches, between 11 September and 10 December 2011, broke conditions of "any form of physical contact between the customer and the dancer".
The club's licence was temporarily suspended in December in 2011 before being fully revoked by Plymouth City Council in January 2012 after a police investigation.
After Bowman's conviction, Acting Insp Martin Worthington, of Devon and Cornwall Police's Alcohol Licensing and Crime Reduction Team, said there had been "systematic breaches" at the club.
He said: "This is not the first time an adult entertainment establishment has fallen foul of conditions prohibiting physical contact between dancers and customers.
"In this particular case it was quite apparent that the designated premises supervisor turned a wilful blind eye to the requirements of the premises' licence and, as a consequence, has now lost his reputation and has lost his personal licence."