Devon tourism postcards highlight domestic abuse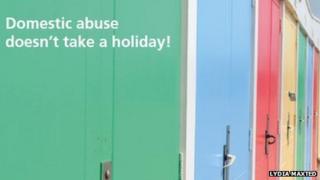 Postcards warning about domestic violence have been distributed around tourism spots in south Devon.
The cards, by the South Devon and Dartmoor Community Safety Partnership, show images of summer, and information about signs of abuse and helpline numbers.
Project managers said the cards were to help abuse victims when on holiday.
The cards have been given to holiday parks, attractions, National Trust properties and information centres.
Mags Naylor, of the Domestic Violence and Abuse Service in South and West Devon, said: "Sadly, for those in abusive relationships, a holiday does not always mean a break from violence and abuse. Sometimes it can even get worse.
"By making these postcards available, tourism businesses will be helping to highlight the problem and making sure the key helpline numbers are available to those visitors who might need them."
The safety partnership - which covers the South Hams, Teignbridge and West Devon - is made up of local councils, Devon and Cornwall Police and other local organisations.