Shoalstone pool group 'working on long-term future'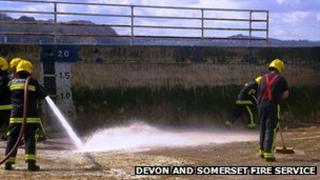 A community group running an outdoor pool in Devon for a year has said it hopes to manage it in the long term.
The operation of Brixham's Shoalstone Pool has been taken over by the Brixham Community Trust after pool owner Torbay Council said budget savings meant it could not fund the art deco lido.
The trust held its official opening of the pool on Saturday.
Dave Hodgetts, from the trust, said: "Now it's open, our attention can turn to working on a long-term lease."
'Stunning icon'
Mr Hodgetts said much work had been carried out to open the "stunning art deco icon", which had been "within a whisker of closing".
Reopening the pool saw members of of Devon and Somerset Fire Service hose it down as part of clean-up work.
Mr Hodgetts said the trust had ambitions to operate it for longer than just the year its current lease lasted for.
He said: "We're hopeful the good will between the trust and the council can continue."
The seawater pool was built on the site of a natural rock pool people have used for bathing since the late 19th Century.
Much of the current structure was built in the 1920s.
It normally opens for four months over the summer but Torbay Council could only fund six weeks in 2012 because of "budget pressures".