Pair rowers Josh Tarr and Jason McKinlay set new round-Britain record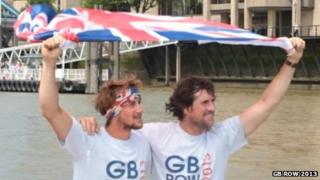 Two Devon rowers have smashed the record for a pair rowing round Britain.
Josh Tarr, 27, and Jason McKinlay, 42, returned to London 41 days, four hours and 38 minutes after leaving in their 24ft (7.3m) boat.
The men beat the pairs record of 50 days and five hours set by two Army doctors in 2010.
Mr Tarr, from Churchstow, and Mr McKinlay, from Salcombe, were two of six starters to finish what is dubbed "the world's toughest rowing race".
'Epic effort'
After setting off on 1 June, the pair - Team Savoir Faire - crossed the Tower Bridge finishing line after a journey of about 2,000 miles (3,220km) at about 13:00 BST on Friday.
Mr McKinlay said he was happy just to have completed the trip, which he said was "a monumental thing to achieve".
He said: "The record is a bonus, but getting around the island was a fantastic thing to do."
Race president Will de Laszlo said: "It was an epic effort.
"Massive congratulations to the record-breaking team."
Four teams had dropped out of the race by the end of the first week, mainly due to mechanical problems caused by rough seas.
The other finishing team, a crew of four called the Islanders, crossed the line at Tower Bridge on 27 June.
Members of that team earned themselves £100,000 for setting a new world record for unassisted rowing around Britain with a time of 26 days.