Torrington Hospital beds closed as 'new ways of working' explored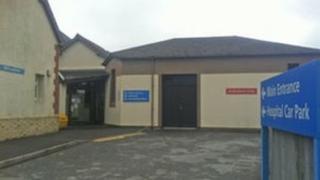 A Devon community hospital is to temporarily close its 10 beds and treat people at home.
The six-month trial starting in September at Torrington Hospital is to "explore new ways of working", health chiefs said.
Opponents to the move fear patients will be waiting too long for visits.
The NHS trust said the number of community nurses would be increased during the pilot project and working hours would be extended.
'New model'
Northern Devon NHS Trust said all outpatient clinics would continue as normal.
Those requiring admission after the project has started will go to Bideford or Holsworthy hospital.
Torridge independent councillor Margaret Brown said: "I am worried about care in the community because that's never worked in the past.
"I know of examples where patients have been waiting for people to call and they haven't turned up."
Dr John Coop, the trust's clinical director for community services, said trusts needed to explore a "new model of care".
He said: "With an ageing population and people having more complex health issues, we and trusts across the country need to explore new ways of working that focus on treating patients at or closer to home rather than in a hospital.
"We need to take proactive action now to face up to these challenges and ensure we can continue to provide high-quality, sustainable services in the future."