Exmouth's Elizabeth Hall money to be reinvested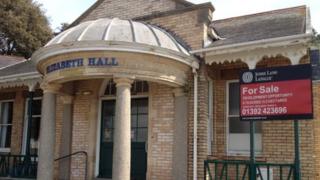 Money made from the sale of a seafront Victorian building will be reinvested back into a Devon town, a council has confirmed.
The site of Exmouth's Elizabeth Hall was sold to Premier Inn for £1.24m.
The money will be spent on the Queen's Drive leisure project on the seafront and repairing a slipway in the town.
Cabinet members from East Devon District Council unanimously agreed with the plan, a spokesperson from the authority said.
They added the hotel firm would also pay an additional £202,000 in accordance with planning permission that will be used for projects including the refurbishment of public toilets and seafront signs.
In May, a decision by the council to sell the hall prompted a protest march and a 12,000-signature petition.
Premier Inn plans to build a three-storey hotel, rising to four storeys in one section.
In June, the company said its building would be "fitting of its location".