Round-the-world runner starts global record attempt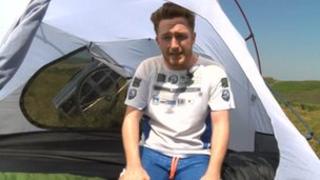 A fitness instructor is hoping to enter the record books as the fastest person to run "around the world".
Kevin Carr from Ilsington, Devon, started his challenge from Haytor on Sunday afternoon.
His route will cross the continents of Europe, Asia, Australia, North and South America and touch on parts of Africa and the Arctic circle.
Mr Carr said he hoped the 18,000 mile journey would take no more than 19 months to complete.
He said: "I am looking at getting the world record starting and finishing in the same place.
"It's the ultimate test of endurance. You're going as far as possible under your own steam, with no support crew to help you find your way."
Mr Carr will have various sets of running shoes posted out to him every two months by a sponsor.
He believed the challenge would see him running 36,480,000 steps.
Everything else he needs will be in his lightweight trailer including a tent, stove, food, water, and a solar panel charger for his satellite tracker.
After two years of training Mr Carr said he was ready to take on the challenge.
The runner said he expected to get back to Haytor in February 2015.