Gloucestershire 'glassing' pubs get licence warning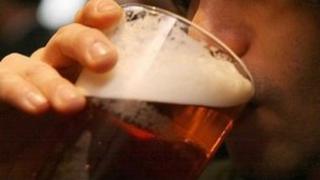 Pub and clubs in Gloucestershire where glasses are repeatedly used to attack people could have their licence revoked, police have warned.
Venues where glassing has taken place are being written to by police and asked to consider using polycarbonate.
Any pub which has another glassing incident within a year could have its licence revoked, police added.
PC Jaine Simner said: "Photos of people [injured by glassing] shows why we can't tolerate repeated incidents."
Although the county does not have a "major issue" with glass being used as a weapon in pubs, PC Simner said police wanted to "encourage licensed premises to be as responsible as possible".
"Most major clubs and pubs with late night licences already use polycarbonate glasses," she said.
"But we are seeking to encourage this throughout Gloucestershire whenever these horrific incidents occur."
Licensed premises with repeat incidents of glassing will be referred to a Licensing Authority hearing, a police spokesman said.