Ideford cannabis 'tea' grower Glen Bellamy spared jail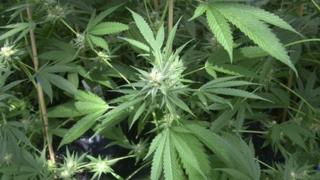 A man who grew cannabis to give to his sick wife in her tea has been spared an immediate prison sentence.
Glen Bellamy, 53, of Limestone Grange, Ideford, Devon, claimed he cultivated the plants because it was difficult and dangerous buying from street dealers.
Exeter Crown Court was told Bellamy had 40 "flourishing" plants which yielded more than 2kg of cannabis.
The previously "cynical" judge said he accepted his account and sentenced him to 20 months, suspended for two years.
Recorder Mr James Tindal said when he first looked at the case he felt an immediate jail term would be "inevitable".
'Best intentions'
"When I was told the cannabis was being grown for personal use I was cynical, if not sceptical, but having heard from you and your wife I accept entirely your account," he told Bellamy.
The court was told smallholder Bellamy, who admitted production of cannabis, used it to make herbal tea or added it to food to relieve the pain of his seriously-ill wife, who has a chronic medical condition which requires occasional hospital treatment.
He claimed the cannabis was for personal, medicinal use and he had not realised his "bumper crop" was worth up to £25,000 on the streets.
Bellamy said he and his wife needed more cannabis than a normal user because neither were smokers and they preferred to take it in infusions which diluted its potency.
They also mixed the drug with chocolate and butter, which they spread on food.
The judge said he accepted Bellamy had been motivated by the best intentions, had not intended to supply the drug commercially and was unlikely to breach the suspended sentence.
However, the judge said there had to be "some degree of immediate punishment" and imposed a three-month curfew on Bellamy and ordered him to pay £424.
"The exceptional circumstances of your wife's illness led to this offence and since then you and your wife have found alternative ways of dealing with that illness," he added.