North Devon parking wardens should wear 'friendly colours'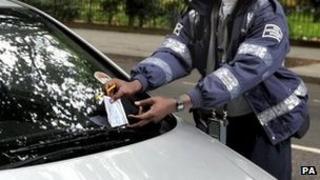 Traffic wardens should wear uniforms in "friendly colours" and be nicer to people, a report has suggested.
North Devon councillors, who are looking into car parking in the district, said they wanted the wardens to be "ambassadors for the town".
Scrutiny committee chairman Frank Biederman said he wanted to see them dressed in a "more friendly colour" like maroon and white.
He added he wanted wardens to have a "smile on their face".
Mr Biederman said the public image of the traffic wardens was that they were there just to "dish out tickets".
"I think that when people visit our towns and resort locations around north Devon it is nice for them to be met with a friendly face with people dressed in a friendlier manner," he said.
Town's colour
"It should attract people to approach them and for them to be as much an ambassador for the town."
The councillor added: "I'd like to see them dressed in a more friendly colour, like maroon and white, they've got a smile on their face and people want to approach them for advice if they need it."
Mr Biederman suggested another possibility could be red if they were working in Barnstaple, "as red is the colour of the town".
"Just a colour that is more approachable, and not immediately saying this is an officialdom," he said.
The reports also suggests that promotions are used to increase Sunday car park usage, and that Sunday prices should be reviewed.