Girl, 9, fights off attacker in Dartington Hall gardens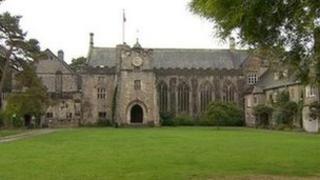 A young girl has fought off an attacker after being grabbed while playing hide and seek in the gardens of a Devon estate, police have said.
A man grabbed the nine year old by the arm while she played with other children in Dartington Hall's gardens on Saturday.
The girl managed to kick him and ran off after he fell to the ground, Devon and Cornwall Police said.
A police spokesman said they were treating the case as an assault.
He said the girl had been playing near the estate's donkey statue on Saturday afternoon when she was approached from behind by the man.
Several sightings
The man has been described as being white, in his 20s and about 5ft 6ins (1.70m) tall with brown hair.
The spokesman said he had been wearing a dark hooded jumper and possibly blue jeans.
The Dartington Hall Trust said it had contacted two nearby schools, including one based on the estate, over the assault.
It added that the estate had permanent security staff and that security was of the "utmost concern".
Trust chief executive Vaughan Lindsay said: "We are taking this matter very seriously.
"Our security team will continue to monitor the situation and work with the local police force, and we would urge everyone to be vigilant at this time."
In a letter sent to parents, Dartington CofE Primary head teacher Jill Mahon said the trust had informed the school that there had been several sightings of the man during the weekend.