Plymouth's former Palace Theatre an 'endangered' building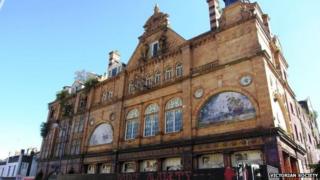 A former Plymouth theatre is one of the most endangered buildings in England, according to the Victorian Society.
The Palace Theatre has been derelict since 2006 when nightclub owner Manoucehr Bahmanzadeh was arrested and jailed for allowing drugs to be sold.
The society has criticised Plymouth City Council for failing to preserve the 1898 Grade II* listed building.
The council said while it recognised its importance, it could not spend funds on a building it did not own.
The Victorian Society said the Palace Theatre had suffered years of misuse and the council had "made no progress" in finding a solution.
Director Chris Costelloe told BBC News the building had a "long, complicated and difficult history" and while he accepted the council did not own it, he believed that, without its intervention, the Palace had "little chance" of surviving.
"Plymouth Council needs to take decisive action, or the city risks losing one of its best buildings," he said.
"I'm very sympathetic to its budgetary constraints, but the council has lots of tools in its legal locker and if it has to spend some money there are grants available.
"It would be completely tragic if Plymothians lost this truly amazing building."
Although the theatre's most recent use was as the Dance Academy nightclub, the building has also been used as a bingo hall and wrestling venue.
Owner Mr Bahmanzadeh, who is currently attempting to have his criminal conviction overturned at the European Court of Human rights, was unavailable for comment.
However, English Heritage confirmed that following discussions with itself and the city council, the owner had undertaken some remedial repairs.
"More are needed, but we're very pleased that some emergency roof repairs are being carried out," a spokeswoman said.
The city council told BBC News it was happy to advise the owner once he had "a clearer idea" of the direction he wanted to take with regard to the building.
Charlie Chaplin
"Nobody wants to see a building such as the Palace Theatre crumble," a council statement said.
"The council does not own the building and has to prioritise the way it spends council taxpayers' money.
"Spending vital funds on a building we do not own and have no specific use for is not the answer."
The New Palace Theatre of Varieties was built by architects John Thomas Wimperis and William Henry Arber in 1898.
World-famous acts "treading the boards" of the theatre included Charlie Chaplin, Gracie Fields and Laurel and Hardy.
The comedy duo's appearance at the Palace is believed to have been their last live performance, while Chaplin's appearance coincided with the silent-screen actor's stay with MP Lady Nancy Astor in 1931.
"The Palace Theatre is one of the most remarkable entertainment buildings of its time," the Victorian Society said.
"It sums up the flamboyance of the music hall."